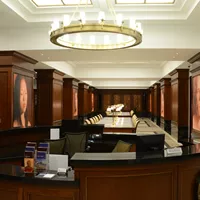 The Colorado Supreme Court Library is located on the first floor of the Ralph L. Carr Colorado Judicial Center at 2 E. 14th Avenue,Denver, Colorado 80203.
Our primary mission is to support the research needs of the Colorado Judicial Branch.
The library is also open to the general public and members of the Colorado bar.
We are open Monday - Friday from 8:30am - 5:00pm. A reference librarian is available during all open hours to assist you with your legal reference and research questions.
The staff consists of experienced and friendly professionals who can help you:
research legislative history

locate journal articles, secondary materials and practice treatises

locate Court of Appeals unpublished opinions

suggest alternative resources and search terms

verify citations
The library also provides public access to a robust array of legal research databases including LexisNexis, Westlaw, HeinOnline and Fastcase. Four public access computer terminals are available in the library for electronic legal research. Computer use is limited to 1 hour.
Please visit the library's website for more information about library services or to search library holdings on our catalog.